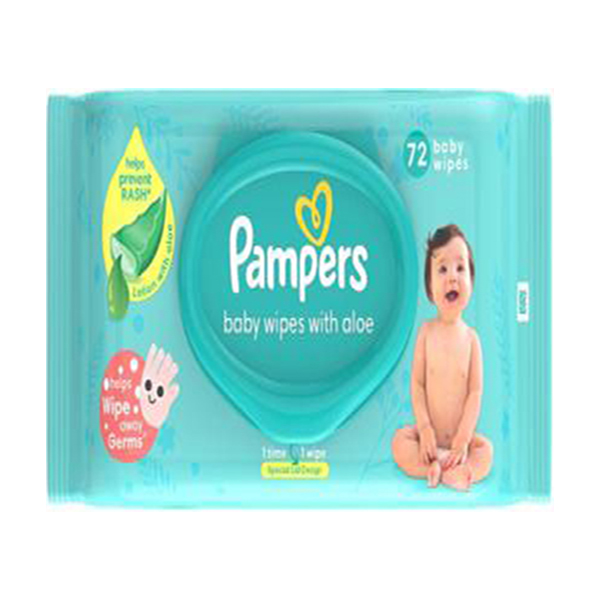 PAMPERS ALOE VERA BABY WIPES:72 WIPES
(Customers Review)
Price : ₹ 199.00 ₹ 199.00
Specifications :
Country Of Origin: India
---
About the product:
Every little miracle deserves gentle protection – mothers & doctors have always trusted Pampers to provide the care. Presenting Pampers Baby Wipes with Aloe which have the goodness of lotion with Aloe vera to protect against skin rashes & redness. Containing 97% pure water, Pampers Wipes provide mild cleaning for baby's supples skin, just like cotton & water.
Pampers wipes are safe as they are paraben-free and infused with Vitamin-E. They help restore the natural pH of your baby's skin, keeping it healthy and nourished. Pampers wipes are thick, soft and strong, ensuring a perfect, gentle cleaning for the baby's skin. Lastly, the wipes come with a refreshing mild fragrance that you and your baby will surely love.
Key Benefits
Pampers - India's No.1 Diaper brand presents new Pampers Baby Wipes with Aloe Vera
Anti – Rash: Lotion with Aloe vera helps prevent rashes & redness on baby skin
Mild on Baby Skin: With 97% pure water, Pampers wet Wipes are mild on baby skin like cotton & water
Safe for newborn baby skin: Pampers wipes are infused with Vitamin-E and are Paraben-free which makes them safe
Easy to use: Pampers wipes are made thick & wide and are soft & strong for best cleaning
Mild fragrance: Pampers baby wipes combo offer delightful & mild fragrance that is safe